What's about Ori Princess?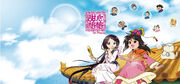 Ori lost when she was small due to the fluctuations of the court. After ascending the throne as Ori's father three (emperor) to find and bring to the palace. Because of getting used to living life folk and unruly from childhood, causing many cry and smile stories. To rectify, emperor has held special training.
Featured Poll
What character do you like?
Photos and videos are a great way to add visuals to your wiki. Find videos about your topic by exploring Wikia's Video Library.